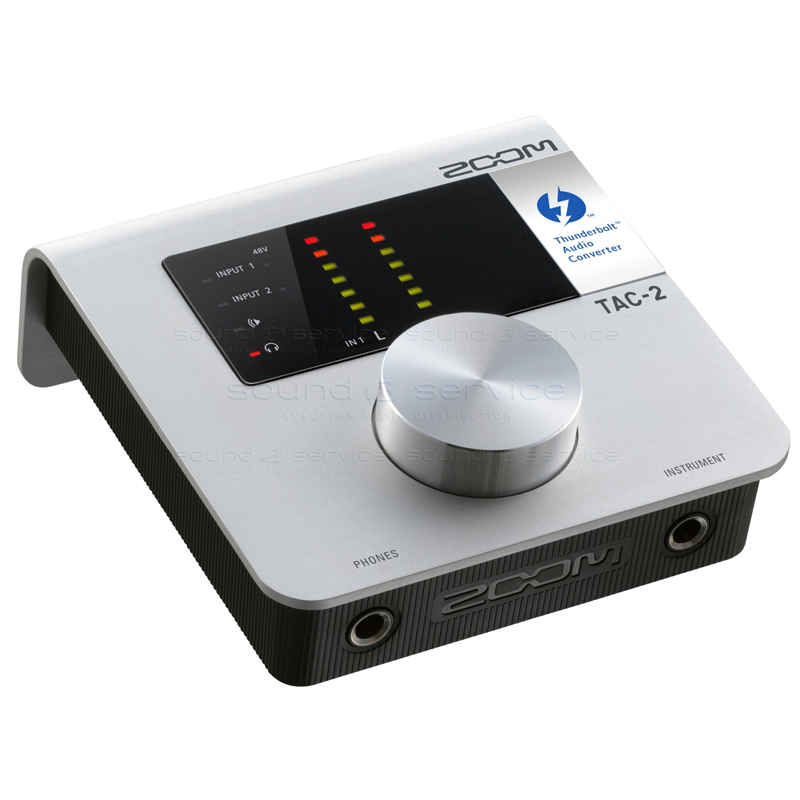 ZOOM TAC-2 Thunderbolt Audio Converter
ZOOM hat mit dem TAC-2 das erste Thunderbolt Audiointerface seiner Geschichte auf der diesjährigen NAMM präsentiert. Mit den TAC-4 und TAC-8 erweitert ZOOM nun seine Line an professionellen Audio Konvertern mit Thunderbolt Schnittstelle. Damit ist ZOOM der erste Hersteller weltweit, der mit einer kompletten Line an Interfaces auf die moderne, fortschrittliche Thunderbolt Schnitststelle setzt und auch konsequent die Vorteile, die diese neue Schnittstelle bietet, ausnutzt. Auch in dem TAC-4 und TAC-8 setzt ZOOM ausschliesslich auf hochwertige Komponenten, wie 24-Bit 192khz AD/DA Wandler und neu entwickelte, extrem rauscharme Mikrofonvorverstärkern. Dank Thunderbolt Technologie lassen sich bis zu 6 Stück TAC-4 oder auch bis zu 6 Stück TAC-8 jitterfrei ohne Wordclock miteinander verketten, so dass dem Anwender dann bis zu 108 Inputs und 20 Outputs zur Verfügung stehen.
In today's world, speed is everything. The blazingly fast Zoom TAC-2 interface uses the latest Thunderbolt™ technology for ultra-low latency and the ultimate in high-quality audio, up to 24-bit/192kHz. Lightweight and portable, yet rugged enough for the road, the TAC-2 is also easy to use, with a single large rotary knob controlling all parameters. Whether using it in your home studio or on the road, you can rely on your TAC-2 to deliver pristine audio.
Features:
• 2-in/2-out high speed Thunderbolt™ audio interface
• Support for recording and playback up to 24-bit/192kHz
• Ultra-low latency audio streaming
• Two combo balanced XLR/TRS input connectors
• +48V phantom power for each input
• Hi-Z input jack allows direct connection of electric guitar or bass
• Two balanced TRS output jacks for connection to amplifiers or self-powered speakers
• Dedicated headphone jack with independent level control
• 7-position LED metering for input, output and headphone volume
• High-performance Burr Brown mic preamps with up to +60dB of amplification
• 4x upsampling during A/D and D/A conversion for reduced noise and enhanced fidelity
• Asynchronous transfer system unaffected by computer jitter
• Simple user interface—all operations controlled by a single rotary knob
• Bus powered—no AC power required
• Rugged yet compact and lightweight
• Works with all Thunderbolt-equipped Macintosh computers running OS X 10.8.5 or later
Specifications:
Inputs INPUT1/2XLR/TRS combo jacks
(XLR: 2 hot, TRS: TIP hot)
Input gain: 0, 9 to 60 dB (3dB steps)
Input impedance: 3kΩ
Maximum input level: +12dBu (@0dBFS)
Phantom power: +48V
INSTRUMENT
(INPUT1) 1/4" phone jack (disables INPUT 1 when in use)
Input impedance: 1MΩ
Maximum Input level: +10 dBu (@0dBFS)   
Outputs OUTPUT L/R1/4" TRS phone jack (Balanced)
Maximum output level: +14 dBu (@0dBFS)
Output impedance: 100Ω   
PHONES 1/4" stereo phone jack
20mW + 20mW (into 32Ω load)
Maximum output level: +8dBu (@0dBFS)
Output impedance: 30Ω
Frequency response -2.0 dB: 20 Hz - 60 kHz @ 192kHz setting)
-2.0 dB: 20 Hz - 40 kHz @ 96kHz setting)
-2.0 dB: 20 Hz - 20 kHz @ 44.1kHz setting)
S/N ratio EIN 125dB(IHF-A) @ 60dB, 150Ω input
Dynamic rangeA/D: 118dB typical (IHF-A)
D/A: 120dB typical (IHF-A)
Audio channels recording 2
Audio channels playback 2
Sampling frequency192kHz, 176.4kHz, 96kHz, 88.2kHz, 48kHz, 44.1kHz   
Bit depth 24-bit   
Interface Thunderbolt   
Power Thunderbolt Bus Power   
Power consumption 10W maximum   
Dimensions129.5 (D) x 120.0 (W) x 51.3 (H) mm   
Weight 420g   
Included Accessories Operation manual, Thunderbolt cable   
ZOOM TAC-2 Thunderbolt Audio Converter