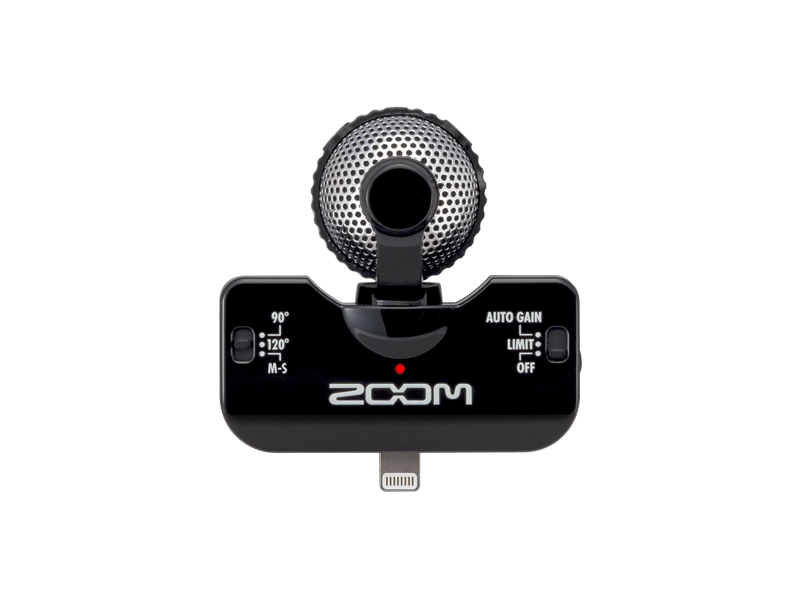 ZOOM iQ5 Black or White Stereo Microphone for iPhone and iPad
Bitte Farbe bei Bestellung unbedingt angeben!
A revolution in stereo microphones
for the iPhone, iPad and iPod Touch.
The Zoom iQ5 is a high-quality mid-side stereo condenser mic, perfect for recording music and compact enough to be slipped into your pocket. Simply connect it to the Lightning connector of your iPhone, iPad or iPod Touch and get ready to do some serious stereo recording any time, any place.
Specification:
MicrophoneMid-side (M-S) stereo mic(90°/120°/M-S)
Maximum input sound pressure120dB SPL
Input gain+ 0 to + 40dB
Audio quality44.1kHz/16bit, 48kHz/16bit
Power Powered by the connected iOS device
The connected iPhone/iPod touch can be powered by connecting the genuine Apple power adapter that was included with it to the USB connector. (* iPad/iPad Air/iPad mini does not support this function.)
Connector Lightning connector
USB Mini-B connector (only for recharging the connected iOS device)
Stereo mini jack (combined headphone/line level output)
Dimensions 58.6(W) x 62.45(D) x 38.5(H)mm
Weight30.5g
Compatible devices iPhone 5, iPhone 5s, iPhone 5c, iPhone 6, iPhone 6 Plus, iPod touch (5th generation), iPad (4th generation), iPad Air, iPad Air 2, iPad mini, iPad mini 2, iPad mini 3
Supported OSiOS 6.0 or newer
Included Accessories iQ5, Operation Manual
Optional Accessory Hairy Windscreen (WSU-1)
ZOOM iQ5 Black or White Stereo Microphone for iPhone and iPad