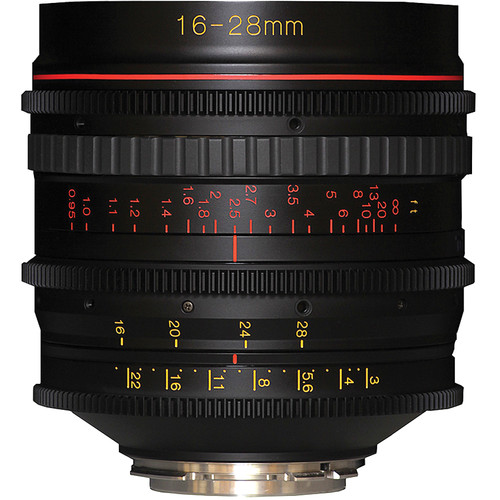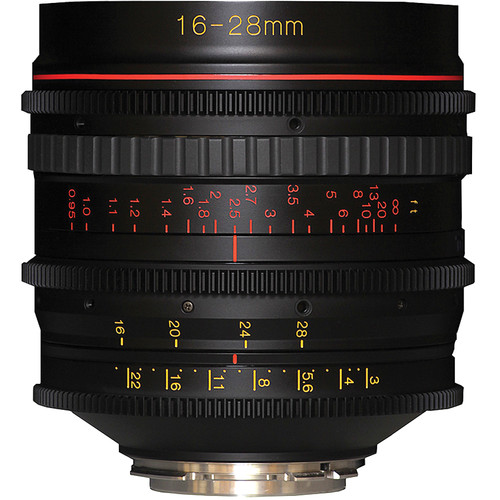 Tokina Cinema ATX 16-28mm T.3 mit EF-Fassung
The Cinema 16-28mm T3.0 with Canon EF Mount is a wide-angle zoom lens that covers full-frame image sensors and features a Canon EF lens mount. The lens builds upon the optical performance of Tokina's 16-28mm f/2.8mm FX DSLR lens, but now has a parfocal design that allows you to maintain focus on your subject while zooming, and all-metal housing optimized for video and digital cinema use. The housing provides manual focus control with an easy-to-read distance scale, a de-clicked aperture ring for smooth iris pulls. The focus, aperture, and zoom rings all have standard 0.8 pitch gears for use with follow focus systems.

The Tokina 16-28mm T3.0 utilizes three aspherical and two super-low dispersion lens elements and multi-layer coating to produce images with high contrast and sharpness, while minimizing flare, diffraction, and ghosting. A 9-blade aperture diaphragm yields pleasing focus highlights while further reducing the chance of diffraction at small apertures. The lens has an industry-standard 114mm front diameter for use with professional matte boxes.
Ultra-wide angle T3.0 zoom lens
Covers Full-Frame, APS-C, and Super-35 sized sensors
4K image sharpness
Parfocal lens design
Rugged all-metal lens housing
0.8 Pitch geared focus, aperture, and zoom rings
LDS (Lens Data System) support
9-Blade aperture diaphragm
Industry-standard 114mm front diameter for use with matte boxes
112mm Filter diameter
Min. focus distance of 11.03"
Tokina Cinema ATX 16-28mm T.3 mit EF-Fassung