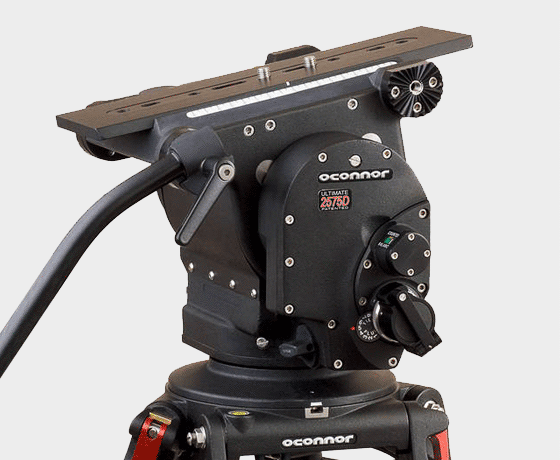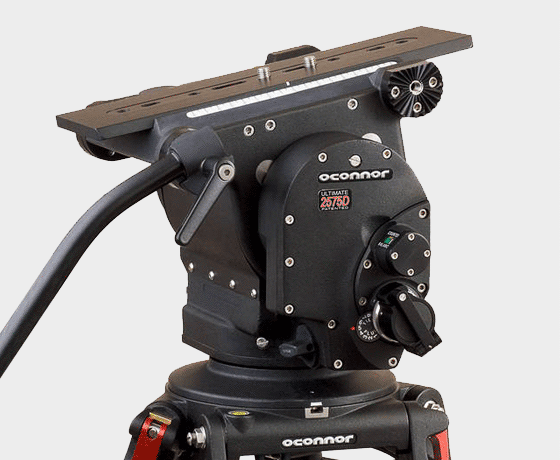 OConnor Ultimate 2575D Fluid Head (150 mm)
Ultimate 2575D Fluid Head, with 150 mm Ball Base (08414) + Tiedown (08417).
0-105 lb (0-47.7 kg) payload at 6 in (152 mm) C of G above platform.
With its famous features the 2575 fluid head has become the standard for film production. The head includes OConnor's patented sinusoidal counterbalance system for true, accurate balance at any point in the tilt range. Add to this OConnor's stepless, ultra-smooth pan & tilt fluid drag, and you've got ultimate control and stability for film style shooting.
As the next generation head of the highly successful 2575 series, the 2575D retains a large number of features and functions from the older heads but includes many new features:
Platform controls on the operator's side of the head
Platform release lever with a one touch finger actuated safety release catch - allowing for one "finger" or hand action to undo the safety catch and open the lever
Dual platform scales
Platform with 4 handle rosettes
Soft hand rest on left hand side
Technische Daten:
Capacity @ 4 in. (102 mm)
@ 6 in. (152 mm)
@ 8 in. (203 mm)133 lbs. (60.5 kg)
105 lbs. (47.7 kg)
87 lbs. (39.5 kg)
Platform see below
Handle(s) 30°
Bases Mitchell, 150mm
Tilt +90° / -90°
Heigh t8.4 in. (21.3 cm)
Width 12.4 in. (31.5 cm)
Depth 8.6 in. (21.8 cm)
Weight 22.9 lb. (10.4 kg)
OConnor Ultimate 2575D Fluid Head (150 mm)