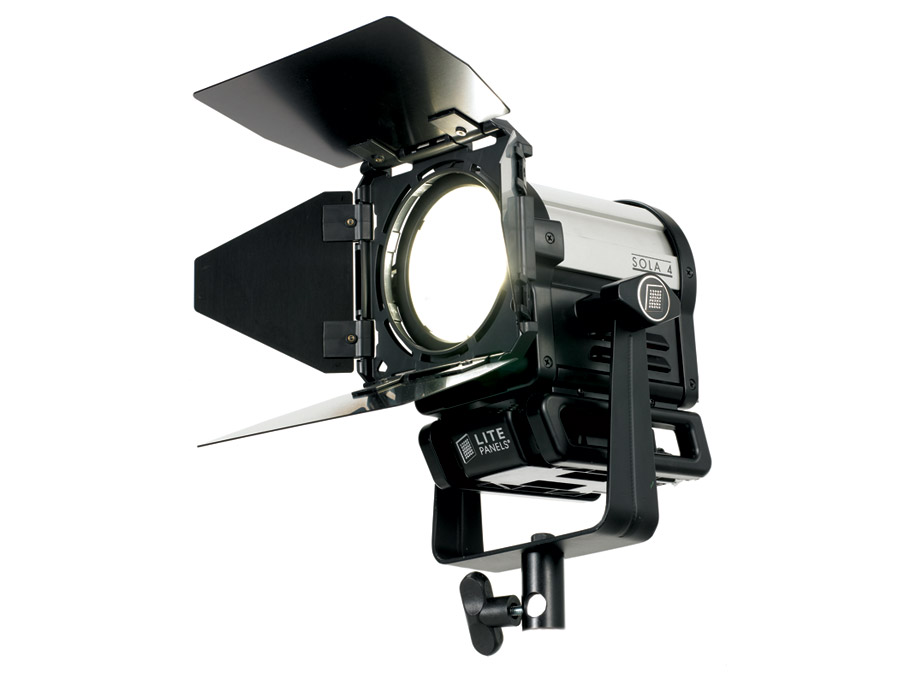 Litepanels Sola 4 Daylight Fresnel 4-inch Fresnel - Fixtures
including Sola 4 Daylight Fresnel fixture with 4-inch lens, 4-Way (4-Leaf) Barndoor, Manual Yoke, Power Supply and EU Power Cord (Schuko).
Litepanels Sola 4
The performance of a large Fresnel — with the advantages of LED technologyThe smallest DMX controllable LED Fresnel on the market, the daylight-balanced Sola 4™ offers the controllability and light-shaping properties inherent in a Fresnel light at a small fraction of the power draw of conventional fixtures. Like the rest of Sola Series, Sola 4 provides Litepanels' famous soft light quality.
Features/Advantages
A true Fresnel fixture that produces soft, directional illumination
Litepanels proprietary heat-free LED technology
High quality 4" Fresnel lens
Energy savings and extended bulb life provide a <3 year ROI in typical studio applications
Daylight color balance with no external ballast or restrike period required
AC/DC power with DV power via 4-pin XLR
Integrated DMX module with RJ45 (Ethernet) connectors for remote control using DMX512 protocol
100% to 0 dimming with no noticeable color shift or flicker at any frame rate or shutter angle
Focus control from 72° to 13° beam via on-fixture dial or DMX
Robust lightweight housing
Standard yoke for easy mounting and positioning
39W power draw with output comparable to a 125W HMI
Perfect companion to the Sola 12™ and Sola 6™ Fresnels
WHAT'S INCLUDED
Manual Yoke
Sola 4/Inca 4 4-Way 4-Leaf Barndoors
Power Supply
Power Cord
Technical Specifications
Color Temperature: Daylight balanced
Beam Angle: 72° to 13°
Fresnel Lens: 4" / 10.16cm
Size: 8 x 7 x 11" / 21 x 18 x 28cm
Weight: 3.60 lbs. / 1.63kg
Maximum Power Draw: 39W
Power Requirements: 14-28VDC / 100-240VAC
Power Supply: AC/DC 120-240VAC, DC power via 4-pin XLR
Includes: Includes: 4-way 4-leaf barndoors, manual yoke with junior pin adapter, power supply, power cord
Litepanels Sola 4 Daylight Fresnel 4-inch