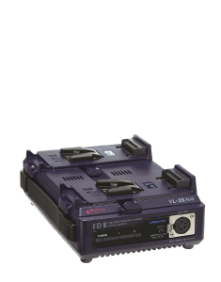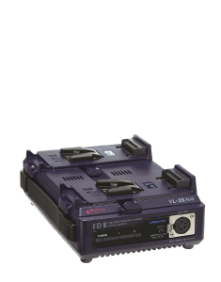 IDX VL-2SPlus 2 Ch. ENDURA Simultaneous Fast Charger with built-in AC Adaptor (100W)
PRODUCT DESCRIPTION
2-Channel Fully Simultaneous Quick Charger with AC Power Supply Adaptor (100W DC 13.8V)
VL-2SPLUS provides simultaneous 2-channel charging and AC to DC 100W power for camera and other 12v equipment. The charger also offers 'Power Base' mode—charged ENDURA batteries output DC power through its 4-pin XLR connector, making it a power station if AC mains are unavailable, disconnected or fail.
Simultaneous 2-channel charging for both channels. Each channel is operated independently so batteries can be placed on charge in any order and at any time.
Integrated 100W DC power supply provides 100W XLR output for the camera, lighting or ancillary broadcast devices.
PowerBase mode enables the VL-2SPLUS to provide battery powered DC when the AC mains is not available or becomes disconnected. Power from both channels – using up to 4 (four) ENDURA batteries in PowerLink – can generate DC output.
Lightweight, high impact polycarbonate enclosure features a recessed power switch and integrated carry handle.
VL-2SPLUS compatible batteries: All ENDURA V-Mount Li-ion batteries, and all NP Li-ion/Ni-CD batteries from IDX can be charged with an A-E2NP adaptor, available separately.
Internal safety features protect both the battery and charger from serious damage should faulty or misused batteries be placed on charge. The VL-2SPLUS will automatically stop charging should any battery reach an over voltage condition.
Universal AC input voltage for worldwide operation.
Technische Daten:Input Voltage: AC 100~240V 50/60Hz
Power Consumption: 162VA/100V 151VA/240V
Quick Charge Current:
4A: ELITE, E-10, E-10S – 1 battery
3A: ELITE, E-10, E-10S – 2 batteries
3A: Other IDX Li-ion batteries
DC Output:
Maximum output in DC operation:
DC 14.5V / 6.7A (Max 100W)
Battery Output:
Battery voltage through output/Battery max. discharge current
Operating Temperature: 23°F ~ 104°F
Dimensions: 5.94(W) x 3.11(H) x 8.74(D) inches
Weight: 2.43 lbs. approx.
IDX VL-2SPlus 2 Ch. ENDURA Simultaneous Fast Charger with built-in AC Adaptor (100W)