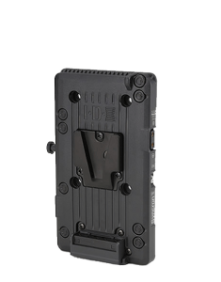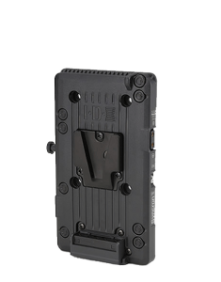 IDX P-VS2PW ENDURA V-Mount Plate with 2-pin D-Tap DC out, Digi-View & Syncron for Panasonic AJ-HPX3100
PRODUCT DESCRIPTION
V-Mount Camera Converter + Digi-View for AJ-HPX3100
The P-VS2PW plate has been designed specifically for the Panasonic AJ-HPX3100. The P-VS2PW features an additional power connector, to be attached to the camera before mounting in position, which allows the power tap on the AJ-HPX3100 camera to draw DC power from an attached V-Mount battery.
The P-VS2 includes a 2 pin D-Tap on the side to connect an on-board camera light and also features Syncron, which turns the on-board light on and off in sync with camera record button. As part of IDX's Digi-View feature, digital battery data from the ENDURA ELITE, E-10 and E-HL9 can be transferred through the P-VS2PW to compatible view finder cameras.
Two DC outputs for the camera and a D-TAP output connector for powering on-board camera lights.
●Digi-View battery monitoring function. The remaining battery capacity and other data is displayed in the
viewfinder of the camera. ※Refer to Digi-View for further details (Lower right).
● Syncron function allows an on-board camera light to turn on and off in sync with the camera recording mode.
※Refer to Syncron for further details.
● The P-VS2PW can be used for most of professional video cameras. Adjustments can be made to suit
different manufacturer camera models via its ability to provide universal positioning.
Technische Daten:
Maximum output for the D-Tap: 50W
Dimensions: 82.5(W) × 142(H) ×12(D) mm / 3.25(W) × 5.59(H) × 0.47(D) inches
Weight: Approx. 180g / 0.40 lbs.
Included accessories: Installation manual x 1, M3 (8mm) screw x 4
IDX P-VS2PW ENDURA V-Mount Plate with 2-pin D-Tap DC out